I once worked for a CEO that had a sign in the boardroom that read "It's all about the People, Stupid,". It was harsh, but accurate. It was a not-so-subtle reminder to focus on your people every day and to aspire to servant leadership. When disruption hits, your best asset is always your people.
We have entered into another paradigm shift in bank and credit union branching in which quick frictionless transactions are paired with a desire to have "just in time human contact." We can all recant the stories and articles of experts saying the "branch is dying," which should have been code for "it is changing with the times." The dying tagline fits our current era of dramatic headlines. Not only did this confuse the financial rags reporting this, but also the banking community in general. Experiences are made better when there is an understanding of what drives a consumer into the branch or to the website. According to Gallup, when we enter the branch, we do it for a reason. Making those interactions meaningful and memorable is imperative.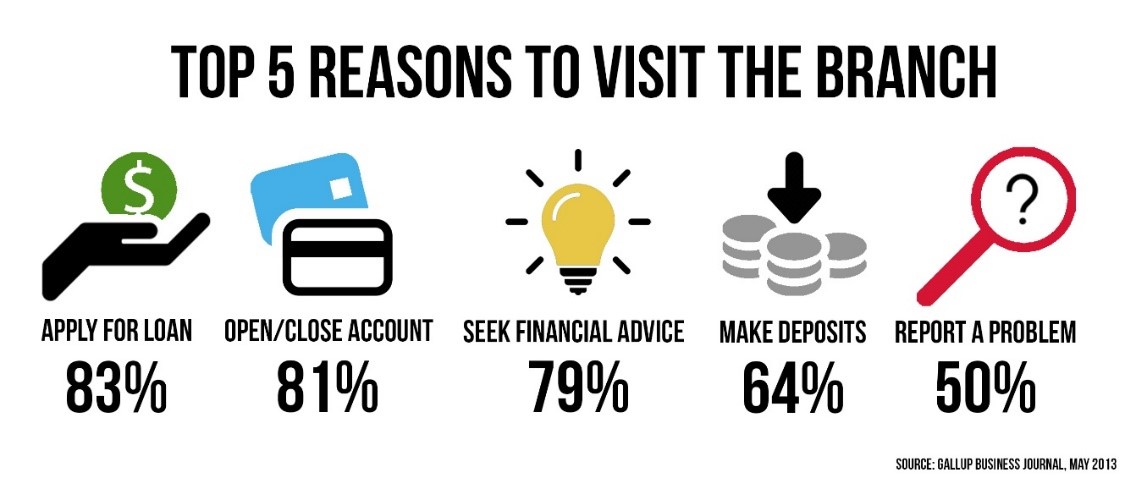 When the industry went from having 40 tellers to having four, was that a bad thing? No, it was a pure function of efficiencies and a change in serving the client base. Do you think the tellers of the 60's had an issue with efficiency models or technology disrupting how they served others? You Bet! Should you be surprised by this latest shift with the advent of mobile and digital banking? How do you lead your team through this latest disruption?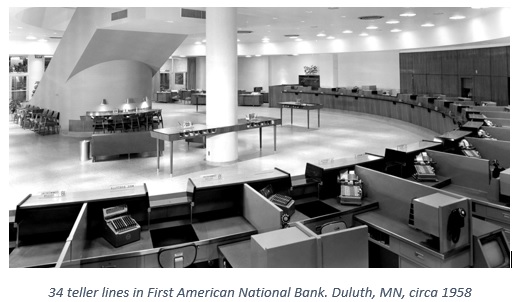 As a leader you have competing priorities. According to a recent survey by KPMG the top five competing priorities are:
Implementing disruptive technologies
Talent development
Stronger client focus
Stronger branding, marketing communications
Building public trust
All five are blended together when looking through the lens of your people. The vision becomes clear; the consumer lies at the center of this matrix. For the remainder of this brief blog I want to talk about customer-led transformation and how to lead your people in these challenging times.
Customer-Led Transformation
The goal in transformation should be a combination of initiatives. Reduce cost, enhance the client experience, shift from a product-focused to a consumer-focused model in order to improve the bottom line. These initiatives are about people accepting and engaging in change in order to better serve the consumer. How can you transform your organization's culture to accept this challenge?
Focus on People First
The most obvious way to influence company culture is the tone at the top. Your words matter, your tone matters, your job as a leader is to influence your organization and get people to act. Reward the right behaviors and get the right people on the bus with you. Easy, right? I have always said take your best people and put them in your worst performing branch. What happens? It gets better, because they are your best people.
Let's talk about a few myths in recruiting awesome talent.
MYTH #1
Attracting talent is all about the perks. An example of this, Goldman made headlines last year when it relaxed its dress code to appeal to talent. Another example, JP-Morgan moved its tech team to a modern, open floor office complete with a dedicated space for Foosball.
It's tempting for employers to believe that copying Silicon Valley culture is the key to attracting talent. But it is not these perks that have the biggest impact — it is understanding what prospective employees care about. You have to figure out your unique culture. Banks and Credit Unions need to focus on selling their vision and the unique impact they have on their consumers to job candidates. Whether it is developing a machine learning fraud prevention, new universal banker model to serve clients, digital wallet capabilities, a block-chain project, or something else, FIs need to ensure that prospective workers are aware of the exciting projects and vision they could be a part of at the company.
Similarly, financial institutions should demonstrate that their company is up to date with the latest trends and that they have a pulse on the customer.
MYTH #2
Familiarity with an FI's brand is enough—this is false. You must tie people to your brand promise, to what problems you are solving, and the impact you are having on your customers, community, and world. Be authentic to your brand. We have less transactions, so our Interactions need to be stellar and spot on, it is all about building intentional relationships coupled with "fast and furious technology."
In closing, I would go further to say that the financial services industry has migrated past efficiency or experiences and into an era of belonging. Where consumers seek meaningful and authentic moments. Live your brand, be authentic, build relationships. No matter how fast technology moves, the one thing that does not change is that it is all about the people.